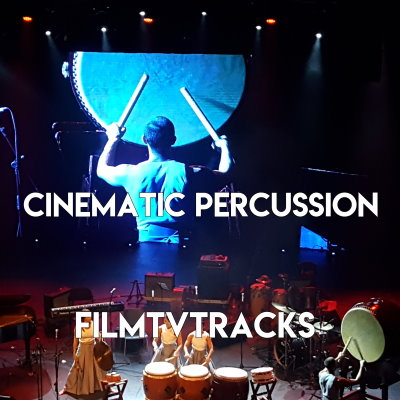 ENERGETIC CINEMATIC PERCUSSION, ACTION Adventure Taikos, big drums.
inspiring and motivational hollywood filmscore trailer.
perfect soundtracks for movies, TV advertising, games, trailers, teasers.
Action Strike Percussion
Agressive Percussion
Cinematic Percussion Trailer with aggressive, epic percussion, The ideal solution for sports, movies, trailers and tv advertising
Big Chinese Drums
Taikos and percussive percussions with hybrid Fx, whooshes and more. Original piece composed with various percussion such as big drums, toms, Timpani, dhol and taiko drums providing huge massive low end for battle drums
Brave Percussion
Strong and powerfully and epic cinematic drums with strong impact- Ideal for Suspense, tension, manhunt
Dynamic Percussion
Powerful multi-sectioned drum & percussion
Epic trailer Percussion
Heroic, epic, percussive, big drums taikos
Explosive Percussion
Explosive hammering percussion with big toms and strong taikos
Forceful Percussion
Highly energetic and dramatic, featuring driving percussion such as dumbek, darbuka, big drums, taikos, various snares, and a trailer rise at the end that creates tension and anticipation.
Hostile Percussion
Aggressive tribal drum hits with big ethnic percussion
Indigenous Percussion
Aggressive tribal drum hits
Revolt Percussion
Epic, agressive battlefield mood with massive, pounding percussion and fx
Royal Percussion
Powerful and catchy beat with cinematic percussions and Hybrid FX whooshes and stomps ! Perfect for Tv commercial, sports and movies
Tribal Percussion
Primal ritual jungle beat with pounding african percussions
http://filmtv-tracks.com//wp-content/uploads/2016/03/royalty-free-music-filmtvtracks-logo.png
0
0
Cheryl
http://filmtv-tracks.com//wp-content/uploads/2016/03/royalty-free-music-filmtvtracks-logo.png
Cheryl
2017-12-24 13:10:20
2017-12-25 05:16:49
10 Highly energetic cinematic percussion tracks for movie trailers