Filmtv-tracks offre gratuitement son lecteur mp3 pour sites web

facile à utiliser et très léger. 
Téléchargez le player Flash avec playlist XML, placez-le sur votre site avec le code HTML correspondant, et c'est parti !
Téléchargez l'archive zip et suivez les instructions du guide
Flash Music Player for Free by Filmtv-tracks.com
We are happy to offer our Flash music player for websites . Try it out – it's free!
Diffusez de la musique sur votre site web grâce à notre player
L'Intégration du lecteur dans une page web est très facile
Pour utiliser le lecteur filmtvtracks, rien de plus simple. Commencez par télécharger l'archive zip grâce au lien fourni plus bas, une fois le dossier décompressé, et suivez les instructions d'installation.
Caractéristiques
XML Driven Playlist
Dynamic path to XML in HTML
Unlimited tracks ( mp3s)
Load Progress Indicator
Clickable Song List Selector
Album art thumbnail image (any size supported)
Supports audio streaming
Colors can be changed via XML
Generated Scrolling Song List
Track time display
Dragable Volume Bar
Graphic EQ Animation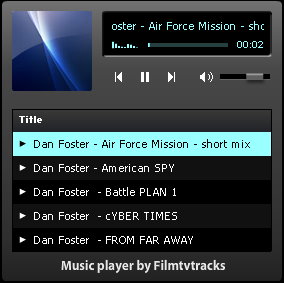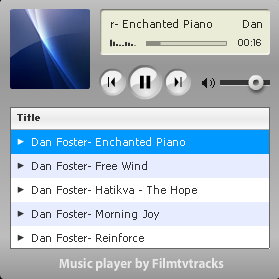 FAQ
Mon lecteur ne fonctionne pas
Vérifiez le code HTML utilisé, les chemin pointant vers les fichiers audio.mp3 et photos.
Avec quel type de site est-ce compatible ?
Toute page HTML, qu'elle soit éditée à la main ou par un CMS.
Quel navigateur utiliser?
Mozilla Firefox, Internet Explorer, Google Chrome, Safari, Opera…
Compatibilité MP3
Préférez des fichiers MP3 encodés à 44.1 Khz
Une question ? Un commentaire ?
envoyez nous un email
Etant donné la gratuité de ce player, aucun support n'est assuré.
Merci de faire connaitre ce lecteur sur votre site, blog, page facebook, tweeter, youtube
en plaçant ce lien  http://filmtv-tracks.com//