Download our free Flash Music Player 
We are happy to offer our Flash music player for websites . Try it out – it's free!
The filmtv-tracks player is handy and flexible. You will love it !
Description
XML Driven Playlist
Dynamic path to XML in HTML
Unlimited tracks ( mp3s)
Load Progress Indicator
Clickable Song List Selector
Album art thumbnail image (any size supported)
Supports audio streaming
Colors can be changed via XML
Generated Scrolling Song List
Track time display
Dragable Volume Bar
Graphic EQ Animation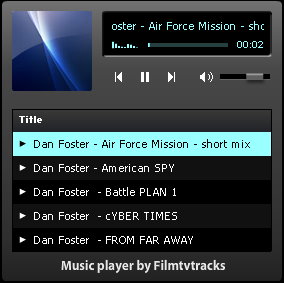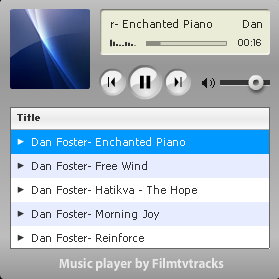 FAQ
My player does not work
Check the html code and path used pointing to the mp3s and images
What compatibility?
All HTML pages, hand published or CMS
Which browser to use?
Mozilla Firefox, Internet Explorer, Google Chrome, Safari, Opera…
What Mp3 Compatibility?
Prefer Mp3s encoded at 44.1 khz
A question, a comment?
Contact us by email
Due to its free of charge, No support is offered
Please, spread the word on your site, blog, facebook, tweeter, youtube by placing this link, thanks
http://filmtv-tracks.com//