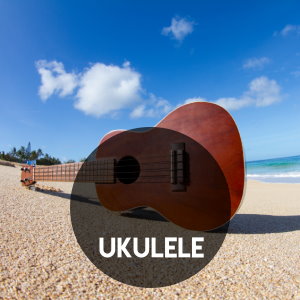 Royalty Free Ukulele Music
These royalty free ukulele music tracks are bright, cheerful, happy featuring exotic ukulele, acoustic guitar  and whisling that creates a relaxed joyful, carefree mood.
There's no debate about it, ukuleles are fun!  Their music is twangy and cheerful, not to mention that it is great for listening to when you are cleaning or doing some other menial task.  The chords and strums will keep you uplifted for the most part so that you can enjoy the task at hand much easier than you would think.  While some scoff at its "usefulness", all music buffs understand its importance as both a backup instrument and a main one.
Happy Ukulele 2.26

Joyful Ukulele 2.53

Summer Ukulele 2.38

Sweet Ukulele 2.34

Upbeat Ukulele 2.38

Happy Ukulele – 50 sec 0.50

Happy Ukulele – 96 sec 1.36

Joyful Ukulele – 44 sec 0.44

Joyful Ukulele – 120 sec 2.00

Joyful Ukulele – 44 sec 0.44

Joyful Ukulele – 52 sec 0.52

Joyful Ukulele – 76 sec 1.16

Summer Ukulele – 38 sec 0.30

Summer Ukulele – 82 sec 1.22

Sweet Ukulele – 30 sec 0.30

Sweet Ukulele – 55 sec 0.55

This mountain (vocal) 4.00

Upbeat Ukulele – 105 sec 1.45

A wonderful world – 66 sec 1.02

A wonderful world – no drums 3.30

A wonderful world 3.30

A wonderful world 2 3.30

Bright blessed days – 70 sec 1.10

Bright blessed days 3.25

Catchy & simple – 58 sec 0.58

Catchy & simple 2.56

Catchy & simple 2 2.56

Happy Music – 56 sec 0.56

Happy Music 3.04

Light & easy – 70 sec 1.10

Light & easy 2.56

My Ukulele – 60 sec 1.00

My Ukulele – 62 sec 1.02

My Ukulele 3.00

My Ukulele 2 3.00

Optimistic Ukulele – 60 sec 1.00

Optimistic Ukulele 3.06

Skies of Blue – 50 sec 0.50

Skies of Blue 2.42

Summer work – 60 sec 1.10

Summer work 2.47

Trees of Green – 60 sec 1.10

Trees of Green 2.47