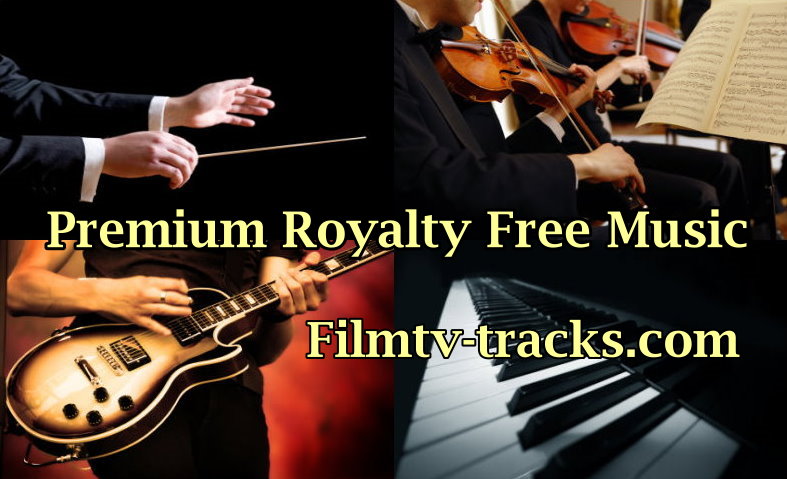 There seems to be an unlimited supply of music online. Everywhere you turn, whether in television, radio, or internet, there is always an opportunity to download and hear new tracks. However, there is always a question of whether this music can be used without running into serious copyright issues.
Fortunately, the cost of using all genres of music is now greatly reduced, with the availability of royalty free music libraries. With royalty free music, you will only have to pay a single amount for such royalty intricacies as mechanical rights, publishing rights, neighboring rights, master use rights, and public performance royalties, among others. Furthermore, you will have a massive selection of downloadable royalty free music from almost all types, styles and music genres.
Royalty free corporate music
One of the most efficient ways to connect with your customers is to provide positive music that evokes a happy and friendly vibe. Fun, positive music tracks with happy melodies are great addition to productions needed for product demonstrations and other business promotions. We have a wide selection of royalty free corporate music that will help your business give more impact for your PowerPoint presentations, corporate videos or seminar materials. From acoustic, folksy music to laid back acoustic jams; from serene, ethereal tunes to industrial compositions, our vast library will definitely have something in store for you.
Royalty free action music
Intense, suspenseful and driving. These primordial qualities best describe the vast selection of our royalty free action music. High-octane, action-packed music is suitable for thrilling car chases and exhilarating scenes for action films reminiscent of such action films as Mission Impossible or James Bond. We offer a variety of electronic music suitable for visuals that need some pumped-up beats that highlight fast action scenes and imagery.
Royalty free ambient music
Royalty free ambient music is ideal for productions needing music that exudes an air of warmth, indulgence and spirituality. Serene and insightful musical compositions that add groove or ethic flavor to your videos, mobile apps or games which give out that reverberating emotion and peaceful introspection. Our library contains tracks that are beautiful, dreamy, and spiritual evoking a delightful feeling of dawning freedom. Synthetic beat that slowly builds up to an intense, reverberated blend of string and percussion, often resulting in a melodic musical production that would captivate the audience.
Royalty free animation music
Positive, fun and childish. Such music as a funny sound of a toy piano or a human trumpet is great for any animation or cartoon projects for television. The funny, outlandish and wacky sounds of royalty free animation music, emphasizes the humor and comedy that you want to convey, especially for productions directed at children. You probably experienced growing up with the familiar wacky music accompanying the adventures of the Looney Tunes cartoon character. Just imagine the good laughter induced by such outlandish royalty free animation music.
Royalty free classical music
Dynamic, spirited and majestic. These words would easily summarize royalty free classical music. You can make your projects more sophisticated by adding orchestral arrangements. Elegant, sentimental and classical tracks are the perfect accompaniment to documentaries or wedding videos. Royalty free classical music, is a striking addition to your video or musical production that underscore dreamy images of stunning landscapes, magnificent mountains, tranquil weather and other images of beautiful nature. We offer hundreds of classical compositions that warm the heart, or something that slowly builds up to cheerful, dreamy glissando.
Royalty free rock music
Two words: exhilarating and motivating. If you want to drive your projects into even higher gear, adding royalty free rock music is a fun and funky way to do it. The driving rhythm of these rock anthems is the easiest way to energize an action scene. The youthful attitude and quirkiness of ram-packed rock tracks are perfect accompaniment for anything that evokes male stereotypes such as automobile, sports, and energetic content. You can make use of our royalty free rock music to push your projects further, outside of your comfort zone, to suggest a loud and edgy vibe.
Royalty free pop music
Royalty free pop music is generally labeled as young, energetic, refreshing, urban and trendy. This music is suited for a range of high fashion contents directed towards a youthful audience. Music featuring drums, synth tabs, bass and catchy melodic lines evoke the energy and the aspirations of teens. The energy, rhythm, and the drive of royalty free pop music is an impeccable choice for happy materials that would appeal to a younger audience. It would also carry the character and the dreams of the youth.
Royalty free orchestral music
You can try our selection of orchestral arrangements that prompts a sense of optimism and motivation. Royalty free orchestral music is a flawless addition to productions reminiscent of Hollywood classics that clamor for grand, urgent and intense emotions. Skim through our music library in order to find the classic and moving orchestral hybrid that slowly and steadily build into the rousing crescendo that you are looking for. The intensity of imposing music from heartening string instruments, provide an epic score for trailers and advertisements for an added emotional impact.
Royalty free piano music
The music from the grand piano truly displays heartfelt emotion and romance. Our library includes a huge selection of piano driven tracks that would help emphasize such feelings as longing, loneliness and love. Even a gentle repetition of piano music, underscored by a string instrument, could transform a dull production into a heart-warming, cinematic, and magical creation. Royalty free piano music is perfect for advertisements that are directed towards a sweet, feel-good and intimate emotion.
Royalty free kids and comedy music
Commercials, animation and mobile games often need fun, quirky, and kid-oriented music to evoke playful, positive and comedic content. We offer a diverse selection of joyful, light, and warm tracks that are ideal for TV advertisements or productions that represent positive and uplifting energies. Royalty free kids and comedy music is perfect for child-related videos or videos that would definitely put on a smile to the viewer's face.
Royalty free video game music
Playing video games become more engaging with royalty free video game music. This type of royalty free music is ideal for intense, action-packed games for PC and mobile devices. It is also perfect for productions that require big sounds to build the momentum further. Scan through our vast library and you will find versatile musical masterpieces that would make any video game even more intense.
Royalty free romantic music
Royalty free romantic music is generally progressive and touching with tracks that progress into a climax of grand passion. These tracks are suited for many types of productions that are inclined to produce romantic sentiments that are evocative of love and high emotions. Especially perfect for productions for weddings, Valentines, and romantic celebrations, you can find the right royalty free romantic music from our immense library.
Royalty free music for documentaries
Documentary music is one of the latest additions to our enormous music library. Our music tracks cover wide range of emotions that will fit any of your documentary projects. Royalty free music for documentaries involving wildlife and nature, science and technology, documentary, drama, and atmospheric music beds, are some of the most sough-after royalty free music. If you want to chronicle the adventure of your documentary heroes with proper detail, overtures from royalty free music for documentaries are great additions.
Royalty free trailer music
Royalty free trailer music includes music from big drums, huge orchestras, epic brass and other similar sets of instruments, exactly how a trailer should. Using royalty free music for your production is a great way to add powerful, dark and a dramatic atmosphere to your trailer films. Epic trailer music is a commanding and motivational track that is emphasized by dramatic orchestra music plus and an assortment of great string and brass melodies. The music then culminates in a great uplifting tempo that brings a very dramatic end.
Royalty free music for commercial ads
Commercial advertisement must immediately capture the customer's attention. One way to do so is to use royalty free music for commercial ads. Our library contains thousands of music tracks that are perfect for productions which will strengthen your brand. Our royalty free music includes jingles, sound effects, drum loops, audio beds, and other advert music. We also have exclusive titles for a wide range of styles and genres perfect for your video or music projects for commercial purposes.
The music industry is a complicated machine, with many different players wanting to have a piece of the industry's money pie. If you are going to use a particular musical composition, you need to go through several copyright issues, making it more expensive to use it for business use. It is often a deterrent factor, especially to independent film producers. Nevertheless, through the royalty free music that you can find in our library, you are given more opportunities to make your production even more exciting and engaging.
http://filmtv-tracks.com//wp-content/uploads/2016/03/royalty-free-music-filmtvtracks-logo.png
0
0
Cheryl
http://filmtv-tracks.com//wp-content/uploads/2016/03/royalty-free-music-filmtvtracks-logo.png
Cheryl
2016-01-19 11:33:15
2016-03-28 05:25:49
Premium royalty free music for all