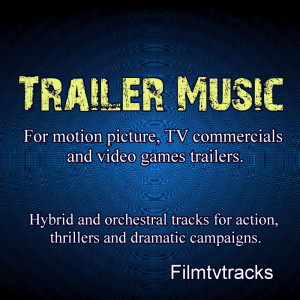 Royalty Free Trailer Music
We produce and sound design trailer music for motion picture and entertainment advertising. Our work is ideal for  biggest blockbusters as well as t video games.
Tracks loaded with layers of ground breaking sound design accompanied by powerful sweeling brass and agitato strings  melodies and Big percussive drums. these tracks have their own stories and capture the emotive cinematic sound that brings motion pictures to life.
Filmtv-tracks is a production music company that focuses on licensing high quality trailer music to media professionals.
We offer hand picked music speciffically designed for films, Tv ads, shows, conventions, trailers, campaigns and video games specializing in epic, action, drama, Hybrid orchestral, cinematic rock and big massive percussions.
If you wish to obtain a music license for your project, Send us an email with full description of your project and we will get back to you as soon as possible. note that License A and B do not apply for motion picture, entertainment advertising, movie trailers, television promos and video game trailers.
REQUEST A QUOTE AND LICENSE
Filmtv-tracks controls 100% of the Master and 100% of the Synch for all tracks.
Please specify the following information
1. Project Name ( type: trailer, tv commercial, film, live shows, online ad, etc).
2. Title of the song you'd like to license and  that you plan to use it for.
3. Term (define length of time needed for the license, i.e. 3 months, 1 year, perpetuity etc).
4. Territory (i.e. worldwide, one country, one continent etc.)
5. Media Rights (i.e all media, television, theatrical, internet only, convention centers, stadiums etc.)
Recording Live Trailer Music
Trailer Music can simply be defined as the background music that we hear in movie previews. It is not always taken from the official soundtrack of the movie. The main objective of Trailer Music is to integrate, support and complement the sales messaging process of a movie.
The most epic trailer music is recorded live and this recording process is similar to live recording orchestral albums. It is done in order to capture the best possible sound. Keep on reading this article to learn more about the recording process of Trailer Music.
Almost all the orchestral albums are recorded live since the producers and composers want to capture the best possible sound coming from musical instruments. In fact, live recorded orchestral albums have the potential to deliver powerful, emotional, unique and natural sound. In most of the cases, entire album is recorded inside the same studio to achieve the best sound quality. However, there are some cases where different musicians record their music pieces in different places. The same can be applied for Trailer Music as well.
Trailer Music is being recorded live in different parts of the world. It is done with the intention of achieving the best sound quality and saving money. There are musicians who organize remote recording sessions in order to save few additional bucks. In here, clients are provided with the ability to following these music sessions via audio and video streaming while staying at their own home studios. They can also interact with engineers, musicians and session leaders with less hassle thanks to the development of technology.
Not all the Trailer Music is recorded live. There are several producers who prefer samples since they are very realistic and sophisticated. This has a direct relationship with the budget. However, the main sections of the tracks such as vocals, brass and strings are recorded live in most of the times. Then they are mixed with the samples in order to achieve a better realistic sound quality.
Trailer Music is being recorded in studios that are located in every corner of the world. Sony Pictures Scoring Stage in Los Angeles, Abbey Road Studios in London and BASTYR CHAPEL in Seattle holds a prominent place out of them. The amazing acoustics produced by these venues have tempted musicians to record Trailer Music in these studios.
Trailer Music has played a major role behind the popularity of many movies out there. The Lord of the Rings, Avatar, The prince of Egypt, Spiderman, Interstellar, Iron man, toy story, Pirates of the Carribean and Gladiator are popular examples to prove the above mentioned fact. Once you hear the title of the movie, the official Trailer Music will come to your mind because of their popularity. This has motivated all the film producers to get the best trailer music done for their movies. It can be considered as a great investment done towards the success of a movie.
Filmtv-tracks explores the exciting and creative process of epic trailer music composing and producing.
We create original Trailer music and sound design, created with the intention of promoting movies, television commercials, theatrical trailers and video games.